Viva3D

®

Creator & Visualizer with AI
Interactive 3D made Smart

TM
Create interactive & data-driven 3D content like never before!
Brochure Datasheet Digital Signage HD videos Download Screenshots Slider




ViewPoint 2D Free Digital Signage Software has been installed in many major airports and also retail and restaurant chains. It can also control up to 4 screens on each PC. (More):-


Viva3D® Visualizer 3D Smartphone compatible
Smartphones with parallax barrier or lenticular displays use a simple video player to deliver 3D content to users. Using the new ZCENE™ software, interactive and live-data 3D content can be delivered to mobile users with higher quality and lower cost.
Viva3D allows smartphone users to enjoy a full 3D look-around effect using eye-tracking, and allows them to make and receive 3D video calls with augmented CG, both on their 3D screens and using lightweight VR-glasses or low-cost VR-phone headsets.
The Viva3D® engine (see news) provides extremely fast VR-style 3D content creation, animation, data processing and visualization. It incorporates unique features, such as a Voice User Interface (VUI), live-data linking, direct to 3D display, and eye tracking, enabling the instant editing, remote updating, navigation and viewing of highly detailed 3D content on low-cost devices (desktop & embedded). It directly drives the latest glasses-free 3D autostereoscopic and holographic displays directly at the click of a button! Due to efficient code, it loads 3D content from 7 to 20 times faster than other 3D applications.
Press: Viva3D 4K embedded PC in AV Magazine
NEW* ePC with the latest Ryzen APU now available, leaflet here
New Viva3D Visualizer Datasheet supports new all-GPU animation system.
Viva3D Visualizer supports Arabic, Asian & Hebrew scripts in 2D & 3D:
28,762 Chinese glyphs 用于3D文字的28,762个中国字形
21,647 Korean glyphs 3D 텍스트 용 21,647 개의 한국어 글리프
22,290 Japanese glyphs 3Dテキストのための日本語グリフ22,290
Viva3D Visualizer is a high performance 24x7 software application able to create & playback animated content on UHD monitors at full frame rate even on tiny sub-$80 PCs; see. Even when 4K video is projected onto an animated 3D surface, smooth playback is achieved with full image smoothing and mipmapping for perfect quality. Viva3D+TinyPC provides world-beating 3D Digital Signage!
Stereo Vision features: Viva3D Visualizer includes advanced real-time stereo video processing (incl. depth mapping), conversion (to autostereoscopic from glasses SBS video) and 3D subtitling, see the user manual for details.
Using a Virtual Reality 3D editor, you can instantly create animated content with complex models (up to 2GB mesh files) that auto-update any 2D or 3D item from external data, ideal for interactive 3D, digital signage, industrial data display, airport FIDS and much more; also directly drives Autostereo and holographics screens in real-time.
Technical-user review of Viva3D
See HD videos produced by ViewPoint-3D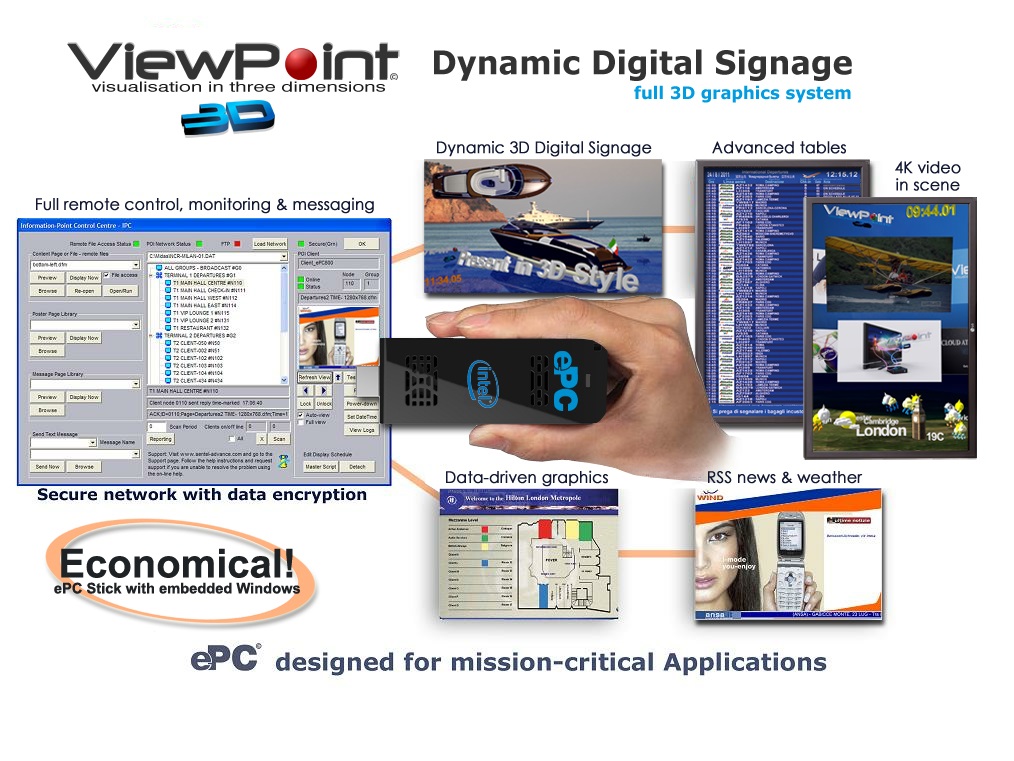 With Viva3D (brochure) you can instantly produce professional-looking 3D presentations, advertising, digital signage and industrial data displays, all with high-definition 3D and video support. You can still produce 2D content, but the VR design environment enables you to create content without the restrictions of traditional 2D systems.
View 2D-3D Digital Signage Promotion
Digital Signage: Viva3D is also available as part of a complete remote-controlled digital signage package, with embedded player software or streaming, FTP server software, real-time remote monitoring and email/SMS reports capable of managing millions of remote displays from low-cost servers hosted by 1&1 Inc.
You can create any type of 3D content in a fully WYSIWYG VR editor, from 3D presentations to complete virtual TV studios or any other real-world scene that you can imagine, and with a web camera even green-screen yourself directly into those scenes. Make educational videos, animated and interactive 3D digital signage with unique live-data 3D content, 3D web banners and even complex 3D data display, and all at resolutions up to 8K, and with zero render time! It will even drive the latest glasses-free 3D autostereoscopic displays instantly!
See the Products page and ViewPoint-3D on YouTube.
* ViewPoint-3D 4K software brochure
* Embedded Digital Signage brochure
This months Special offers and 3D PCs
More information on Viva3D Visualizer for Glasses-free 3D
Using a WYSIWYG 3D editor, you can rapidly create virtual 3D environments, from TV studios to mountain tops and beautiful high-definition locations, and insert your content or even yourself magically into the scene to create stunning presentations.
Viva3D Visualizer WYSIWYG editor in Autostereo mode
Rapidly create interactive digital signage, or educational content, and complex data displays with an extensive range of effects in a full HD 3D environment, and manage from one to thousands of your own TV channels, all remotely controlled, and with full status reporting via FTP, email and even SMS message.

Using a drag-and-drop interface, create stunning 3D content and animations with real-time data-controlled scenes in minutes.

* Instantly produced playback of high defintion 3D presentations can now be achieved on computers equipped with low-cost Graphics Processors.

* Data, text, images and video within the 3D scene content can be updated without the need for re-editing, reducing costs and keeping content fresh.

* With Viva3D Visualizer anyone can start producing spectacular 3D content with stunning effects after following a 15-minute step-by-step tutorial video.

* Viva3D Visualizer drives the Viva3D TV channel for shop window advertising.

* Viva3D Visualizer is compatible with all 2D and 3D screens and projectors, including glasses-free 2D+Depth, WOWvx and other multi-view formats, and can directly drive Autostereoscopic displays, including from Alioscopy and Dimenco.

* Viva3D Visualizer can render autostereoscopic sub-pixel formats directly up to FQHD resolution at 120 FPS or higher rates using standard GPU technology.

* Advanced data and graphics facilities make it easy to create complex data visualisations for almost any application.

* Every week new exciting facilities are released, from surface reflections to environment mapping, and ready-to-use studio-quality animations.

* Using Viva3D allows you to produce better content at much lower cost.

Find out More